As P sits and carves our pumpkin (it's one of his many talents!), I'm thinking all things Halloween. The shops are full of all sorts of things – many of which are utter tat. But there are some lovely Halloween decor ideas around …
Simple monochrome set up – complete with painted pumpkins. Why haven't I tried this?! Image via Digs Digs.
How great are these spider egg sacks? These are white stockings filled with stuffing then loads of spiders added to great effect … I don't know the original photo credit, sorry!
Free printable treat bags via the sweetest occasion.
Bat garland from duet of papers on Etsy.
These spooky trio are really effective yet simple, not sure B would like them in the house though! Image via serendipity.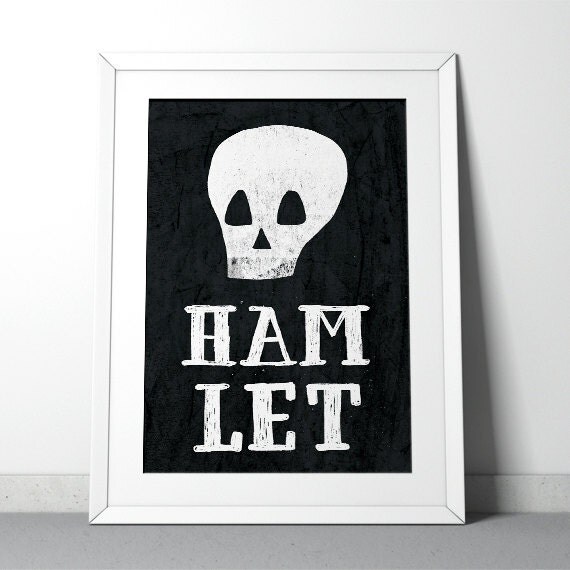 Hamlet poster by Kate Louise Allen at Etsy.
Ok, so it's not decor … but a grown-up nod to Halloween, sharp half-moon mani via allure.
No carve, painted pumpkins are definitely on my list for next year! This beauty is via Balzer Designs.
This is not styled for Halloween, but it is just that little bit creepy … I think it's the monochrome rug and purple velvet … it kind of reminds me of Beetlejuice! Image via decor demon.
Ok, so this definitely isn't traditional Halloween … BUT … I have a fear of birds! And the solitary Eames bird gives me the Nevermore vibe. Image via bloglovin.
We've already watched the nightmare before christmas (is it a Halloween film or a Christmas film? who cares!) and have frankenweenie lined up for tomorrow (I do love a bit of Tim Burton weirdness) … after taekwondo and a kids Halloween party that is!
Have a good one – hope its a treat!